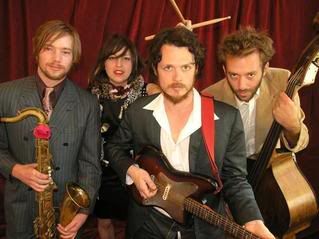 Old Time Relijun seem to be playing a gig in Dublin well according to there myspace page anyway , 24 April with no venue decided as of yet and question marks after Dublin.

no idea who Old Time Relijun are well read on and with some visual stimulation at the end
Old Time Relijun is a three-piece ensemble based in Olympia, Washington. With frequently rotating drummers (the current drummer is Germaine Baca, but past drummers have included Phil Elvrum a/k/a the Microphones), the main stalwarts are Arrington de Dionyso (vocals, guitar. Dionyso is also a respected throat singer and has a degree in ethnomusicology) and Aaron Hartman (stand-up bass). The band has added Aaron's brother Benjamin to the mix, taking over the horn and woodwind work.

Pulling influences from no-wave sax machine James Chance, Howlin' Wolf, and Captain Beefheart, Old Time Relijun creates a frenetic, challenging sound.Old Time Relijun has a solid following amongst anyone who has seen their frenetic live show. In these live shows, it is not beyond Arrington to be playing in nothing more than his tighty whiteys while he and the band kick out the jams.

Old Time Relijun - Cold Water


old time relijun's "wolves and wolverines"