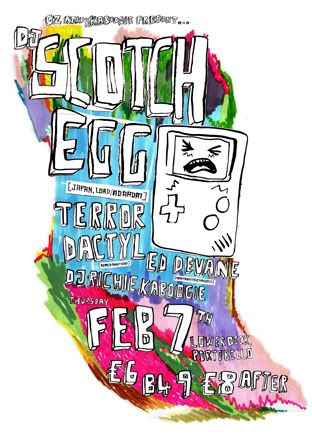 DJ Scotch Egg Japan - Load/Adaadat
Terrordactyl Armed Ambitions
Ed Devane Mantrap/Touchin Bass
DJ Richie Kaboogie

The Lower Deck, Portobello
Thursday 7 February
Doors 8.30pm
€6 before 9pm / €8 after

DJ Scotch Egg
The story of DJ SCOTCH EGG is bizarre and possibly fabricated. None the less, it's told like this: For years he went solely by the name of SHIEZE 2000, but after he was approached by a "manufacturer of microwaveable delicacies (who shall remain nameless)" needing some underground noise music credibility for their latest range, things began to change.

Like the metaphoric peeling away of the breadcrumbed sausage meat and the subsequent reveal of the shrivelled tender egg beneath, DJ SCOTCH EGG shrugged his Casio techno and any and all dealings with irradiated food from his round shoulders. Somewhere in a darkened room a cry rang out...a megaphone was borrowed (from Adaadat's ATOM TRUCK), a Gameboy was brutalised... DJ SCOTCH EGG was born

DJ Scotch Egg - Scotch Bach


http://www.djscotchegg.com/
http://www.myspace.com/djscotchegg

Saw DJ Scotch Egg support Lightning Bolt last year in Whelans and it was intense wearing an aluminous green bomber jacket and a red baseball cap and armed with a gameboy ,mega phone and a mini mixing desk proceeded to get the lighting blot crowd dancing and spazzing out to his tunes.
I cant wait to see him again. Its going be awesome!!