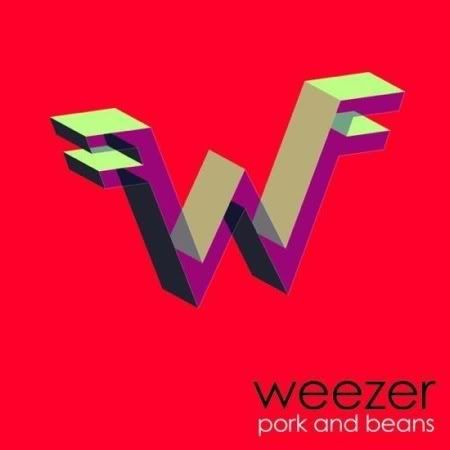 Yes thats it above.....well i got this picture from amazon.com and they are calling the album Pork And Beans (but this is very likely an Amazon error, via erroneously calling the single an "album') so this might be the single art work. Amazon also have a VERY brief clip of the first song Pork And Beans streaming. It sound like classic Weezer blue album territory click here to listen

and now from www.weezer.com
1. Album release date. This has been reported as being June 17th. This is very likely, however release dates are never truly guaranteed until a week or two before the album arrives. So its probably 6/17, with a small chance of changing.

2. The Album's title. The album has been reported as being self titled, i.e. just called "Weezer" like the Blue and Green albums were. This is also very likely. In fact, as of last Friday, it was technically not possible to change it - unless the release date is changed too. So we can say its very unlikely to change.

3. The Album's theme (color). This has been reported as "The Red Album". This is a strong possibility but it is not for sure. As I understand things, many competing visual ideas are being played off against each other (none of which would affect the self titled aspect), and some are "Red" in style or concept. But whether this ends up as the final theme remains to be seen.

4. First single. Confirmed as being "Pork And Beans". Could this change? Maybe a tiny chance of that. But it is definitely a song on the album (and it is unrelated to the demo song "Pig" that made it onto the internet in '06). As for the release date of this single, this information is TBD, likewise the potential (if any) for "physical" single format(s).

5. Other songs on the album. Many song titles have been kicked around the 'net, including "Everybody Get Dangerous", "Automatic", "Ms. Sweeney", "?" (a '12 letter word starting with T and ending with R'), "I'm the Greatest Man That Ever Lived", "Daydreamer". All are real weezer songs, but none are 100% confirmed as actually being on the album as of this writing.

6. Producer/Mixer. The album was made in 3 phases, produced by Rick Rubin (Malibu, spring '07), Weezer (mostly) (Malibu, summer/fall '07), and Jacknife Lee and Weezer (Santa Monica, early '08), and was mixed by Rich Costey.