Lots of hip'n'cool shows coming up, including one by the gentleman above. Lowdown on a handful of them in the readmore...


First up- conveniently timed to my belated discovery of Talking Heads, David Byrne is to play the National Concert Hall on April 6th (that's 2009, people). Tickets are 55.50 & 61.50. It's a Byrne/Brian Eno vibe for the show, with the pair having just released their new record 'Everything That Happens Will Happen Today'. But... the shows will not feature Eno (so more chance of them playing 'This Must Be The Place'??).

Go here for a free download of Strange Overtones, a track from the above album. It's quite good.



Next we have excellent Dublin band One Day International, who are touring to support the release of their debut album, Blackbird. These folks are some busy bees at the moment- they're fitting their own tour in between playing a bunch of shows with Lisa Hannigan, and two of their number forming a new project with Conor O'Brien, formerly of The Immediate (Nialler expands on this here).

Check out some samples from Blackbird on the band's myspace (think mellow & melodic, with lots of strings), or catch them live at the times and places listed on this here poster: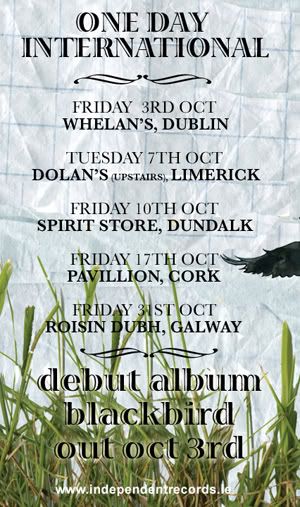 Finally for now we'll go from delicate to dancey- French Electro label and compilers of amazing mixtapes, Kitsune, are bringing their Kitsune Maison Tour to the Button Factory. Featuring some live bands from the Kitsune canon such as Autokratz and HeartsRevolution it's bound to be an interesting kind of party. Just a shame we're not getting the full on London treatment, which features DJ sets from Lightspeed Champion & the awesome Digitalism. Ah well...




HeartsRevolution- C.Y.O.A.