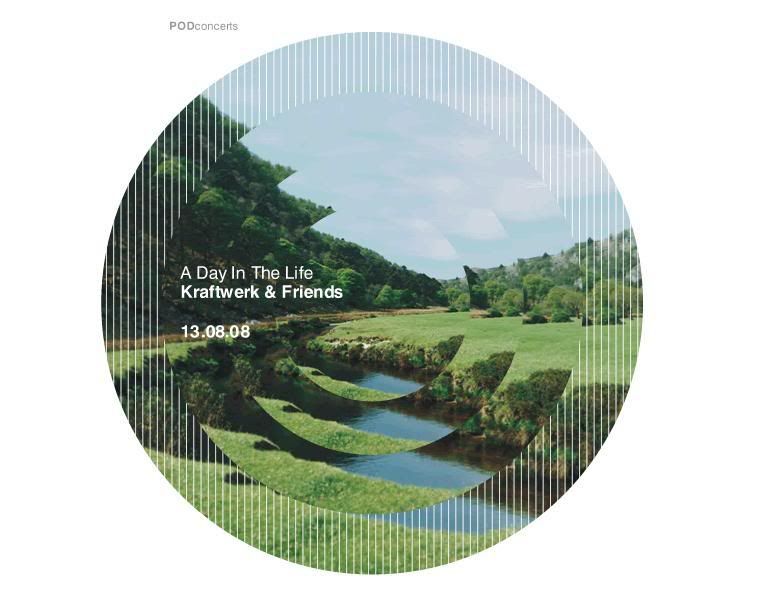 Damn these Irish Summers, they show no mercy. Electric Picnic was lucky to escape unscathed from our crappy weather, but the A Day In The Life festival featuring Kraftwerk, Soulwax and others has not been so fortunate.

Set to take place in Wicklow's awesome Luggala Estate, excessive rainfall has made it impossible to prepare the venue in time, and the whole event has been moved to Kilmainham Hospital.

What does this mean? Well, seeing as ticket prices included the fare for a 'magic bus' to bring punters to Luggala, anyone attending will now have €20 refunded on the day of the show. Those who simply decide not to go at all can get a full refund from the usual places.

As for what parts of the show will be affeceted by the change of venue, we don't quite know. The original plan of having the performances in a "specially constructed tent structure" is still on the cards, but it's hard to see how the Body & Soul Area (which would have been a major selling point of the original concept) will still go ahead, at least in a manner akin to what Electric Picnicers know and love.

On a positive note, Vaudeville Circus troupe Lucent Dossier have been added to the lineup following the great success of their recent Picnic appearances. This may prove to be interesting, as I have heard nothing but great things said of these guys. Check out footage of them in the readmore.

Lucent Dossier Promo:


POD press release:


POD Concerts announce change of venue for A DAY IN THE LIFE with Kraftwerk due to adverse weather conditions.

Pod Concerts regret to announce that due to extreme weather conditions causing the river at Lough Dan to burst its banks on the Luggala Estate, Co. Wicklow today, the Kraftwerk concert, scheduled for the 13th September will now be held in the grounds of Royal Hospital Kilmainham, Dublin.

With adverse weather conditions forecasted for the forthcoming week making production and build of site impossible, Promoter John Reynolds declared;

"I am personally deeply disappointed that this event can not take place on the Luggala Estate which is one of the most awe inspiring and breathtaking locations in Ireland. However due to the unprecedented rainfall and the nature of the site being a natural valley, the subsequent water logging conditions, have made it impossible to prepare Luggala for a concert for the general public."

Tickets for this event, which will see Godfathers of Electronic Music Kraftwerk performing an incredibly special two hour long set, will still be valid for Royal Hospital Kilmainham, Dublin on 13th September, a unique and historical city centre venue, which played host to the hugely successful Leonard Cohen, Iggy Pop and Morrissey concerts earlier this year. Because of the nature of this site, it considerable less vulnerable to flooding and such adverse weather conditions. The ticket price for A DAY IN THE LIFE included a bus transfer to and from Luggala estate, Co. Wicklow, concert holders will now be refunded the bus fare of €20 on presentation of their ticket on the day of the show. Alternatively a full refund is available to ticket holders from their original point of purchase, for those who do not wish to attend Kraftwerk at Royal Hospital Kilmainham.

Though the venue has changed A DAY IN THE LIFE will remain at intimate capacity of 4,999 in a specially installed tented structure. Door times will remain the same opening at 3pm.

Pod Concerts would like to take this opportunity to announce a new introduction to the line up for A DAY IN THE LIFE. Hailing from Los Angeles, Lucent Dossier are the internationally acclaimed theatre collective that wowed Electric Picnickers last weekend with their apocalyptic steamboat providing a unique glimpse into the avant garde tribal culture that has captured the curiosity of the world. Lucent Dossier will be performing twice during A DAY IN THE LIFE in a spectacular purpose built dome.