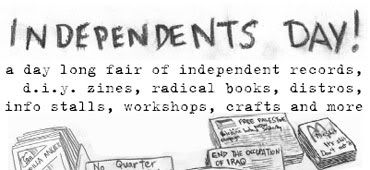 Sunday 7th December 2008
Starts @ 12 , first workshop starts at 12.30 am
Dublin Food Co-op, 12 Newmarket, Dublin 8

Bit late on posting this , but better late then never. Looks like a great day and is described as "A day long fair of independent records, d.i.y. zines, radical books, info stalls, workshops, crafts and more".the low down on what there like workshops,film screenings and lots more just good info in the read more

Takes place Sunday 7th December 2008 at the Dublin Food Co-op, 12 Newmarket, Dublin 8.

Independent's Day is a day long fair celebrating do-it yourself zines and independently released records by some of Ireland's independent labels. As well as info stalls by different social movement groups .

Zines are non-commercial, non-professional, small-circulation magazines which their creators produce, publish and distribute by themselves. There is a long history of zine production in Ireland, beginning in 1977 with Raw Power produced by members of seminal Irish punk band the Radiators From Space.

Today, even with the popularity of blogs and the internet, there is still a good number of Irish produced zines, their creators sticking with the print-format. These include Loserdom, The RAG, Night of The Locust, The Devil On 45 and many others. All will be available on the day along with zines and radical books from Britain and the USA.

"Why not create your zine for the day and bring it along !"

Along with stalls there will also be workshops focusing on self-publishing and community media a film screening by young Irish film maker Dylan Haskins of his documentary about Do-It-Yourself culture: Roll Up Your Sleeves: The DIY Counterculture.

Refreshments on the day will be provided by the Amnesty Freedom Café.

Many Irish independent record labels will have stalls on the day these include The Richter Collective, Rimbaud Records, Stitchy Press and much more .

Info stalls will also be provided by Animal Rights groups , Seomra Spraoi and the Forgotten Zine library plus much more .

Workshops:

History of Zines by Willie

Willie presents a history of zines. Willie for many years produced his own zine Non-Plastique (an early influence on Loserdom zine!). He also ran his own zine distro Ultra Red Star, before setting up with wife Natalia Red Ink radical books and zine shop (between 2004-2006), they now run their own publishing/record label Stitchy Press. He's one of the few Irish zinesters who can claim to have taken part in a zine speaking tour of the USA with a van-load of other zinesters. He also plays/played in numerous Irish Do-It-Yourself punk bands Bambi, Boneyard Witch and Oak.



Feminism and Publishing by The RAG

The RAG (Radical Anarcha-feminist Group) is a Dublin-based collective who publish their own magazine dealing with womens issues and discussions of feminism in the modern context. Their third issue is due out the week before Independent's Day so look forward to getting a copy as well as attending this talk!


Community Television and Media by Dublin Community Television

We've been working on a televised calendar packed with nuggets of forgotten daily histories resurrected to fill the year. Where other stations use the voices of experts or celebs to voice documentaries, we want a myriad of narrators on our show. Add your voice to the din of people's history on the zine day with an audio recording on the day.

Film screenings:

Roll Up Your Sleeves: The DIY Counterculture
A documentary about D.I.Y. music and culture by local film-maker Dylan Haskins.

Channel Zero (episode 2)
Public-access tv show about DIY, punk, anarchism and culture by Maximum Rock n'Roll columnist Erika Ransom. Episode 2 features an interview with Maximum Rock n'Roll zine co-ordinator Golnar Nikpour, and footage of bands.