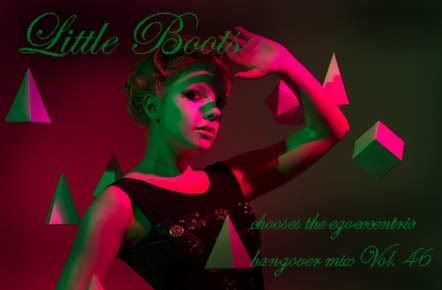 This week's hangover mix is chosen by awesome songstress Victoria Hesketh, AKA Little Boots. Boots is currently touring Italy & Germany with Vice. No Irish dates on the cards as of yet, though I'd expect we'll be seeing her early enough in the new year...

Tracklisting, download link and some Little Boots vids in the readmore.



Click to download mixtape

1. Joni Mitchell - Help Me
2. Simon & Garfunkel - America
3. The Beatles - Two Of Us
4. Elton John - Mona Lisa & Mad Hatters
5. Samantha Sang &The Bee Gees - Emotion
6. David Bowie - Man Who Sold The World
7. Kate Bush - Army Dreamers
8. Beach Boys - She Knows Me Too Well
9. Madonna - Cherish
10. Claude Debussy - Prélude à l'après-midi d'un faune

Here's a vid of Boots in action with a cover of Hot Chip's Ready for the Floor:



(that magical little toy is called a Tenori-On, and I want one. Check em out here)

And here's Boots performing 'Meddle' on Jools Holland:



Click to check out Little Boots on myspace.